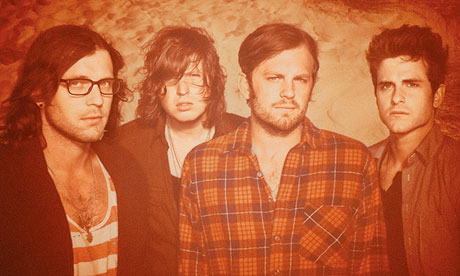 Talihina Sky: The Story of Kings of Leon premieres tonight at Tribeca Film Festival. We've seen two clips thus far: the introductory trailer and a never-before-seen clip posted by Vulture.
Yesterday, Spinner.com posted an interview with Talihina director Stephen Mitchell. Mitchell calls himself Kings of Leon's No. 1 fan and has been with the band since the beginning. He's been to Followill family reunions, seen the Followills fight and has seen them evolve into one of the world's biggest bands.
The Spinner interview, which you can read here, is fantastic. The following snippet has been picked up by several news organizations…
There is a moment in the trailer where someone off-camera tells Caleb "we had made you, you little piece of s—." Can you elaborate on that?

That's Nathan. That's his oldest brother and those two have notoriously gone at each other over the years. They've had knockout — I mean broken shoulders, pulled hair, trying to stab each other. Those two are like twins almost. They're so close but they're too close, if that makes sense. That's Nathan and that's because he loves his brother, and his brother knows he loves him back. That's how they communicate and they want to make sure they stay focused as a team.